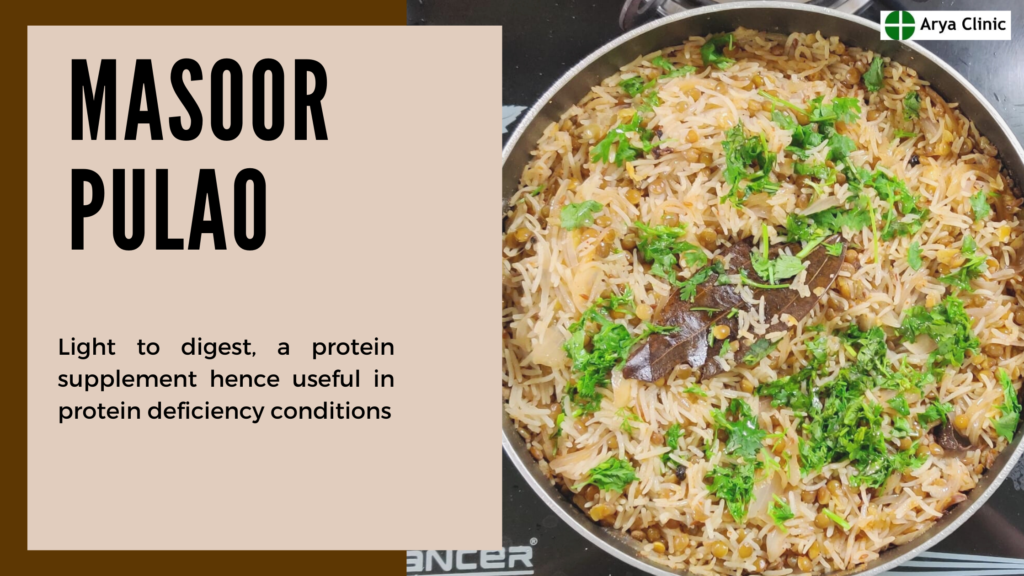 Medicinal use-
Ingredients- ( for 5-6 persons)
Basmati rice 250gms, akhkha masoor 250gms, groundnut oil 4TBS, 1 medium size bay leaf, 1 crushed Masala velchi- big cardamom, 8-10 freshly crushed black pepper, 1TBS cumin seeds, 4-5 cloves, 1-inch cinnamon, 6-8 freshly chopped garlic cloves, chopped medium size 3 onions, 1inch grated ginger, 2TBS Garam Masala, 1TBS red chilli powder, Saindha salt, water, freshly cut coriander leaves, fresh lemon, cow ghee 5-6TBS
Procedure-
Soak Akhkha masoor for 3-4hrs  and Basmati rice for 30 mins and then rinse them and keep them separate.
Heat the pan on medium flame and then add groundnut oil. Then add bay leaf, masala velchi, black pepper, cloves, cinnamon, cumin seeds, chopped garlic cloves, and vertically chopped Onion and saute all for 2-4 mins till aroma spreads.
Then add rinsed akhkha masoor and saute for 2-3 mins. Then add grated ginger, garam masala and red chilli powder to it. Then add rinsed basmati rice. Add 500-600ml hot water and cook on a medium flame for 6-8 mins. Add additional water if needed. Add Saindha namak as per the taste.
Then add cow ghee and garnish with chopped fresh coriander leaves. Then cover the pan and cook the pulav for 3-4 ins on low heat.
Serve hot with fresh lemon juice and cow ghee.
Suitable for all and in all seasons.
( लघु, दीपक, पाचक, बल्य, पोषणमूल्य उत्तम, अतिसारमध्ये उपयोगी, acidity चा त्रास होत असे्यास गरम मसाला व लाल तिखट न घालता बाकीच्या गोष्टी घालून पुलाव करावा.)
#appetizer
#ayurvedaproteinsupplement
#masoor pulao
#masoor pulao recipe
#light dinner recipes
#ayurvedicdoctorinthane
Arya Clinic
Cross Lane, Laxmi Vilas Apartment, Flat no 1, Ground Floor, Gadkari Rd, near RBL Bank, Thane West, Thane, Maharashtra 400602
022253475522
8104370091